Abu Dhabi Polytechnic ADPoly Admission Requirements
Abu Dhabi Polytechnic was established by the Institute of Applied Technology in 2010 to offer a dual educational-professional training system with multiple high-tech disciplines to produce technologists and engineers that serve the UAE's industrial manpower required for Abu Dhabi's Economic Vision 2030 (ADEV2030).
Admission Requirements
The following documents are required from all students:
1. Copy of the valid Passport
2. Copy of the Family book (Emirati students)
3. Copy of valid Emirates ID
4. Copy of the birth certificate
5. Personal photo
6. Copy of the official grade 12 certificate and attestation
7. Police clearance certificate (Good conduct)
8. National service completion certificate (Male students)
9. Medical form (Check-up result)
10. IBAN from the bank
11. EmSat Test Results
EmSAT Requirements
Minimum Average Score for EmSAT Exams
Conditional Admission:
Students who don't meet the required EmSAT scores for Math and Sciences can get conditional admission to take preparatory courses in Mathematics, Physics, Chemistry and/or Computer Science. Students who are enrolled in conditional acceptance should pass the preparatory courses during the first semester from enrolment at ADPoly or get the required EmSAT score.
High School Requirements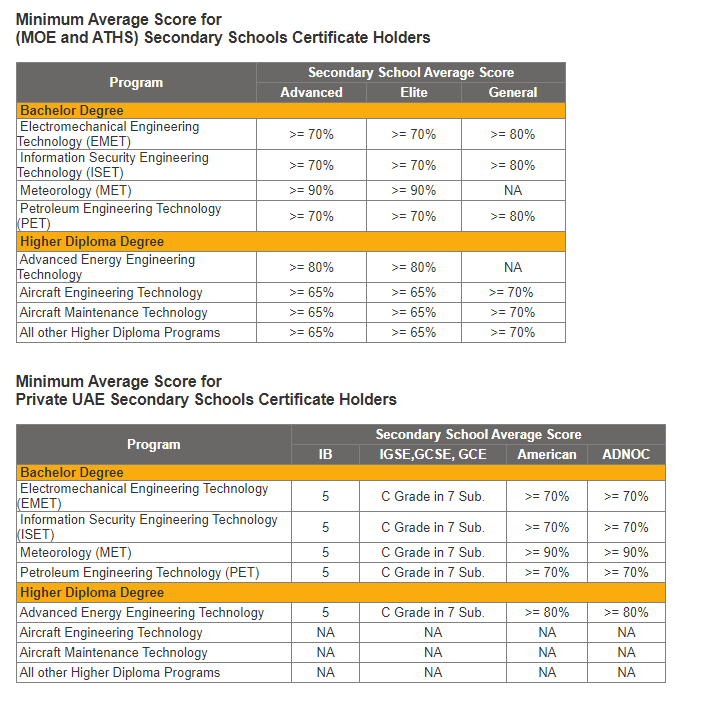 Transfer Students
Transfer Course Credits from other Institutions
A. Admitted students who are seeking to transfer credit courses must submit their valid attested documents including original credit courses transcript, course syllabi, and/or other evidence to the Student Services Office upon acceptance at ADPoly.
B. The documents will be evaluated by the articulation committee toward credit course transfer by the department offering the course(s) within two weeks. The transferrable credit courses for undergraduates are courses completed at other accredited (licensed) institutions either with grades of at least C and above or with Pass for Pass/Fail courses only.
The maximum number of credit courses that might be accepted for transfer cannot exceed 50% of the total course credits required for graduation at ADPoly. Credit Transfer and Recognition of Prior Learning Policy is available in the general catalogue (Pages 22 to 23), visit the ADPoly website under the Admission section
C. See the required documents for admission to ADPoly
Recognition of Prior Learning Policy
In order to earn a degree from ADPoly, a student must earn credits that fulfil the program requirements for graduation which are distributed among general education requirements (college requirements), major program requirements, and electives, as defined by the study plan for each program.
This policy addresses the awarding of credits for the recognition of prior learning. Newly enrolled students at ADPoly may be awarded credit and/or satisfy college requirements in the following ways.
A. Nationally and internationally recognized tests (EmSAT, IELTS, TOFEL, SAT, AP, IB, or any other certified exams recognized by ADPoly).
B. Articulation agreement with another institution.
C. Transfer course credits from other accredited institutions.
Contact Us
Abu Dhabi Polytechnic
P.O. Box 111499, Abu Dhabi,
United Arab Emirates