Kasane is a town in the northeastern corner of Botswana, near the borders with Namibia, Zambia and Zimbabwe. It's the gateway to Chobe National Park, known for the herds of elephants which converge on the Chobe River in the dry season. Caracal Biodiversity Center shelters rescued wildlife. The Chobe Crocodile Farm is nearby. East of town, the Kazungula Ferry crosses the Zambezi River, connecting to Zambia.
15 fun things to do in Kasane
It'll come as news to many, but Kasane's claim to fame is Elizabeth Taylor and Richard Burton getting married in the town in 1975! If it was good enough for them, they must have noticed something special about this gorgeous but unassuming town.
Kasane is indeed very special and well worth a visit. For one; it is located close to where four neighbouring countries almost meet; Botswana, Namibia, Zambia and Zimbabwe. It also boasts the largest population of majestic elephants in Africa. These are just a couple of things that make Kasane interesting.
Please see below for more.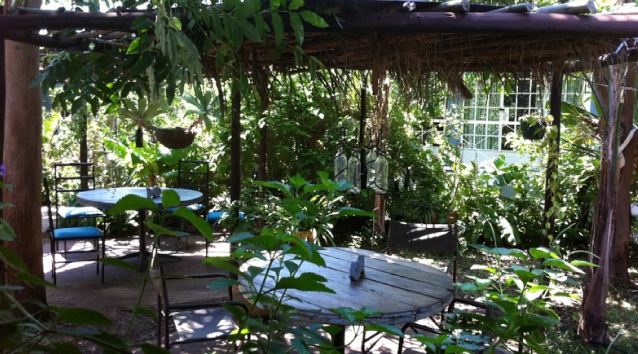 Picture courtesy of www.oldhousekasane.com
1. The Old House Restaurant
The Old House is a small family-owned guest lodge situated in Kasane. It Overlooks the Chobe River, offering stunning views including breathtaking sunsets. It is strategically situated and within walking distance of Kasane town centre. The Old House is a mere 10- minute boat cruise from the Chobe National Park entrance. It has a restaurant and bar and offers 3 family rooms, 4 double rooms and 3 twin rooms.
It serves breakfast, lunch and dinner, has daily specials and serves delicious desserts.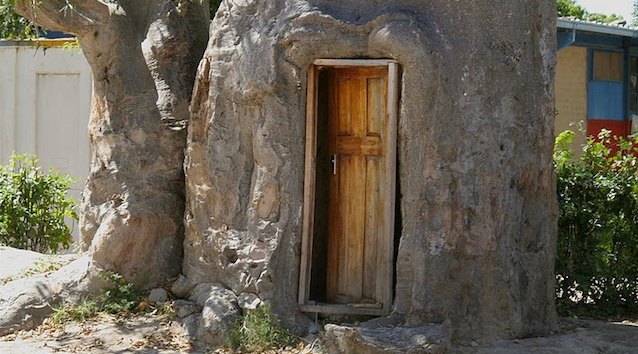 Picture courtesy of www.ticket-to-timbuktu.com
2. The Baobab Tree
The huge baobab tree has a hollow space big enough to fit fully grown people. Once used as a prison of sorts by colonial administrators, the baobab tree now stands behind the Kasane Police Station.
Arrested culprits were imprisoned within the tree before being relocated to more appropriate prisons. The Baobab still stands tall, although its structure has naturally changed over the years. The main body of the tree has split up in several places, leaving just fragments of it. The different parts are still alive and remain attached to the main body.
A new, much larger and more practical police station was built close to the tree prison.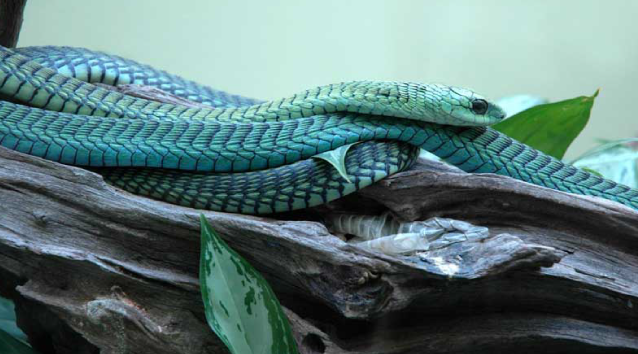 Picture courtesy of http://afrotourism.com
3. Snake Park
Kazungula's Snake Park is home to about 50 snakes comprising 17 species in pleasant, well-kept garden spaces. The snakes found at Snake Park range from the harmless Brown House Snake to the deadly Boomslang and Black Mamba. CARACAL, the NGO that runs the park, is a community-based project that runs educational programs for Batswana children, and a training program aimed at involving Batswana in the tourism industry.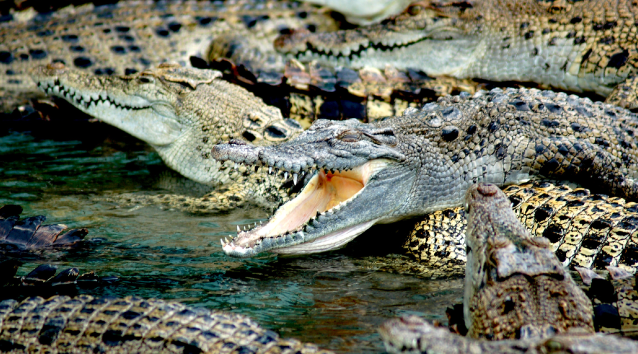 Picture courtesy of flok85
4. Crocodile Farm
The Crocodile Farm is located in Kazungula village, about 12km from Kasane. It is privately owned and has been operating for the past 20 years. The farm is a breeding farm, which sells its hatchlings to other crocodile farms for commercial purposes.
It also caters to the tourist market and conducts educational tours. The farm provides the opportunity for visitors to observe one of the world's most spectacular predators at close range. The experienced crocodile handlers give in-depth information about the Nile crocodile and teach visitors all there is to know about the reptiles.
The Crocodile Farm is open all year. Listed below are details on fees, and opening and closing times:
BWP30 per adult (16 years and above)
BWP20 per child (10 – 15 years)
Free entry (under 10 years)
Opening times
Monday – Friday: 08h00 – 12 noon / 14h00 – 16h00
Saturday
08h00 – 12noon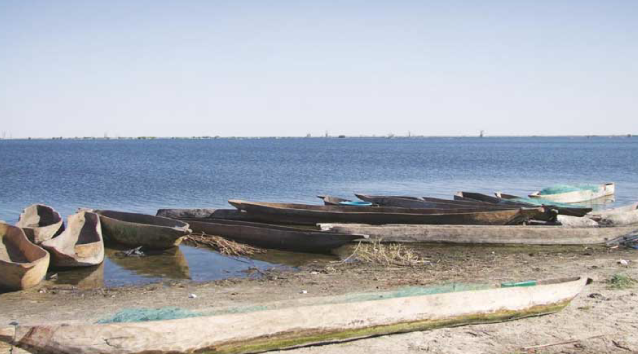 Picture courtesy of http://afrotourism.com
5. Lake Liambezi
This large, shallow lake is located between the Linyanti and Chobe rivers. When full, it covers some 10,000ha. However, without rain, it can become very dry. With the recent heavy downpours, it will no doubt be a sight for sore eyes, teeming with both fauna and flora.
The people of the Chobe Enclave will always have fond memories of this dry lake because it is here they used to derive their livelihood with ease. The hope of it filling up will never die, and that day will be met with great celebrations.
People and cattle now populate its bed.
6. Lesoma Memorial Monument
In 1978, the brutal civil war in then Rhodesia spilt over into Botswana. In a tragic turn of events, 15 Botswana Defence Force soldiers who used Lesoma as a base camp were killed by Rhodesian guerilla fighters. However, the incident only strengthened Botswana's national resolve to remain a peace-loving nation. The Lesoma Memorial Monument was erected in honour of these brave men who sacrificed their life protecting Batswana.
7. Kasane Hot Springs – a lovely natural mineral spa.
The warm and salty waters of this natural spring are believed to hold medicinal powers. Visitors to the site are also treated to fantastic game viewing, as Kasane hot Springs are strategically situated within a wildlife corridor between the villages of Kazungula and Kasane.
The hot springs are a well–known attraction, offering people a fantastic fishing and bird-watching platform, while surrounded by the most amazing scenery.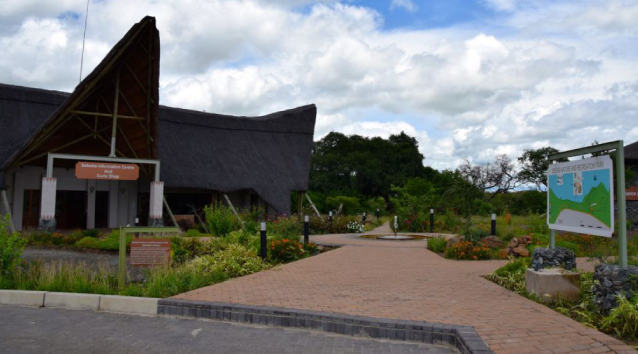 Picture courtesy of world-adventurer.com
8. Seboba Water Rapids & Recreational Park
These rapids occur when the waters of the mighty Chobe River meet an undulating rock base that blocks the water's passage. The resulting rapids and beautiful natural setting give rise to the trees from which Kasane derives its name.
The site offers a few picnic sites. Its birdlife is excellent, allowing visitors sights of rarely seen species like the half collared kingfisher and the African finfoot.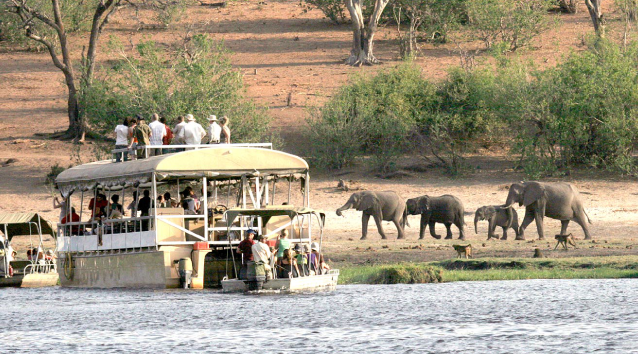 Picture courtesy of http://www.chobe.com
9. Sundowner River Cruises
If there is one thing you should not pass up on, it's a sundowner river cruise along the Chobe! The cruises offer brilliant game viewing and photographic opportunities, and the chances of spotting buffalo and elephants are very high. What's more, as anyone will tell you, nothing beats Botswana sunsets. And to enjoy them from atop a boat cruising along the Chobe; well, there's nothing quite like it. It is truly special, and has to be experienced to be truly appreciated!
10. Forest Reserves
These forest reserves, bordering tribal lands, provide important ecological links with the country's best-known protected area, Chobe National Park. A complex mosaic of forests, national parks, agricultural fields, grazing lands and human settlements interspersed with diverse natural communities poses significant challenges for conservation in the Chobe district. Within this mosaic, the Forest Reserves are important habitats for threatened and endangered wildlife species such as eland, roan, and sable.
Currently, there is limited knowledge of the seasonal distribution and abundance of wildlife populations specific to these forests. However, this information is critical, especially now as the management plans and land use within and around the forest reserves are being reconsidered. – Elephants Without Borders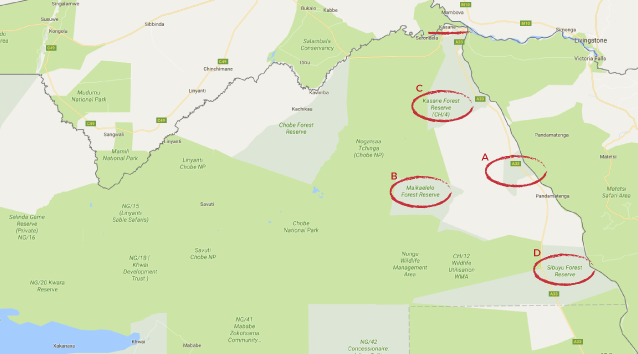 A. Kazuma Forest Reserve: Kazuma Forest Reserve boasts the world's busiest elephant corridor that joins two of the world's greatest parks: the Chobe National Park in Botswana and Hwange National Park in Zimbabwe. Brilliant for camping, elephant viewing and walking safaris.
B. Maikaelelo Forest Reserve: The pans in this reserve offer lodging and campsites.
C. Kasane Forest Reserve: Lesoma valley offers campsites, walking safaris, and night game drives by local tour operators.
D. Sibuyu Forest Reserve: To the ancient San hunters and gatherers this was a land of plenty that teemed with game, and held abundant water, as well as wild fruits and vegetables. Today the only traces of human existence and pre-historic activity lie in the ruins at Nunga. Ideal for camping and walking safaris, especially around the pans.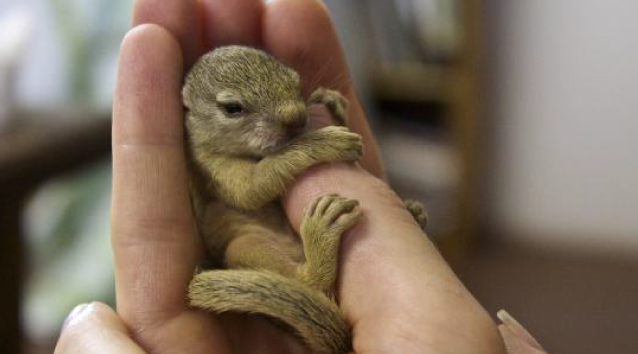 Picture courtesy of www.tripadvisor.com
11. CARACAL Biodiversity Centre
The CARACAL Biodiversity Centre in Kasane is a great educational facility for wildlife lovers. For those travelling with children, the centre offers interaction with animals and a practical way of learning about certain animals and safety precautions.
CARACAL is committed to the conservation of wildlife and improving the livelihoods of communities that must live with this resource in the Chobe area. Through research, outreach and education, the staff work closely with local communities to secure a sustainable future.
The Caracal Biodiversity Centre is an NGO whose objective is to promote and develop conservation and research programs. Its Environmental Education Centre allows tourists and community members to get up close with snakes and other reptiles, birdlife, small mammals and insects.
The main focus is to promote sustainable wildlife utilisation, wildlife conflict resolution, and endangered species management. This includes rescuing injured wildlife, ecosystem health and natural resource management, and the training of government staff, communities and school children.
Open Monday to Sunday from 09:00 – 17:00.
12. Chobe Women's Arts & Crafts
This NGO-backed store sells locally woven baskets made by the women of the region. The women are often available and are happy to demonstrate their weaving techniques.
The Chobe Women's Arts and Crafts are next to the CARACAL Biodiversity Centre.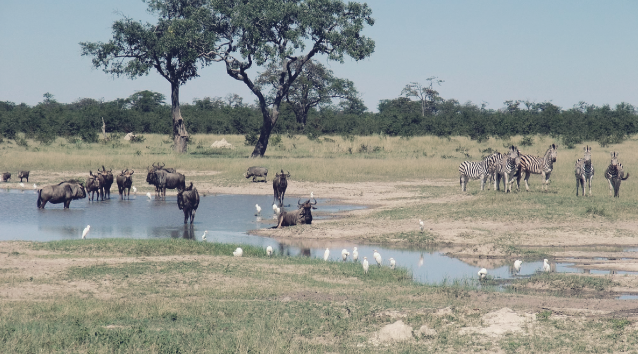 Picture by Gorgo
13. Visit The Chobe National Park
It would be tragic if you made it all the way to Kasane, but failed to visit one of Botswana's most infamous and popular national parks.
Chobe National Park in Botswana's far North Eastern corner is one of Africa's greatest wildlife destinations of Africa. Home to some of the world's largest elephant herds, the park also offers a full suite of predators and more than 440 recorded bird species.
Chobe was first set aside as a wildlife reserve in the 1930s and became Botswana's first national park in 1968. Chobe Riverfront, which supports the park's largest wildlife concentration; the Linyanti Marshes which are very reminiscent of the Okavango; and the remote and soulful Savuti, with wildlife to rival anywhere in the world, are all within the Chobe National Park.
Whatever you prefer, whether it's self-driving and camping under the stars, or flying into your luxury lodge, Chobe has something for everyone.
14. Cross Over To Zambia or Zimbabwe, whichever grabs your fancy!
Victoria Falls National Park, Zimbabwe
The Victoria Falls National Park is the twin park of Mosi-oa-Tunya National Park. It is spread over an area of 23.4 square KM and the city of Victoria Falls lies on the western edge of the forest. The park is covered with dense plant, which includes ferns, palms, liana vinen and trees like Mahogany. Visitors may also see elephant, white rhino, hippopotamus, Cape buffalo, eland etc.
Visit Victoria Falls – Hwange National Park
Many travellers will be concerned about visiting anywhere in Zimbabwe, as it faces economic despair and violence. However, a visit to Victoria Falls in Zimbabwe doesn't pose any risk, as the small town that has remained a major tourist attraction is far removed from Harare. It has, therefore, remained unaffected by the political unrest that continues to rock the rest of Zimbabwe.
The Victoria Falls stretch over 1.7 km across the Zambezi River.
What makes the Falls amazing is that you are able to stand very close to them, although you always have to exercise caution and heed your guide's instructions!  All that separates you from the sheer force of the body of water thundering down a height of 108 metres is a narrow strip of the gorge.
I have personally never been to the Zambian side to view the Falls from another perspective. But I'm told it's well worth the visit in order to fully appreciate this amazing natural phenomenon because while it's the same as Falls, the experience is said to be different.
Victoria Falls – Livingstone, Zambia
The Zambia side of the Falls has sadly always been overshadowed by the Zimbabwean aspect. A popular African destination these days is Victoria Falls in Livingstone.  The Zambia operators also offer aerial tours of the Falls, which I believe are absolutely breathtaking, both literally and figuratively. So if you can, you'd do well to combine your Kane visit with a trip to Victoria Falls, both in Zambia and Zimbabwe.
15. Go on a photographic cruise
Where better to capture the stunning beauty of Botswana than on a photographic cruise along the Chobe River? The route that this excursion takes you on is teeming with stunning scenic nature and wildlife; a keen photographer's haven!
For this fun excursion, you receive a complimentary 'for-use' camera and telephoto lens. Additionally, you are in the company of a pro photographer who's hand helps you snap amazing pictures. The cruise will see you meander along the Chobe river, with the promise of possibly committing to more than just memory, images of playful elephants, bathing hippos and pensive baboons as you go. You have the option of either going on the morning or afternoon trip and each tour comes with a memory card for storing and keeping your souvenir pictures.
What's included in the excursion?
National Park fees
Bottled water
Professional photographer guide
Hotel pickup and drop-off (selected hotels only)
River cruise
Departure Points – Collections from the following places:
Chobe Safari Lodge Jetty
Chobe Marina Lodge Jetty
The Old House Jetty
Mowana Lodge Jetty
Garden Lodge Jetty
Kalahari Tours Jetty
WaterLilly Lodge Jetty
Sedudu Gate Jetty
Departure Time:
Morning: Departures start at 0600 – 0630 hours
Afternoon: Departures start at 1500 – 1530 hours
Did you enjoy this article? Please share and spread the word. Are you from Kasane? Do you know of any other interesting places that YourBotswana has left out? Please feel free to share.
Is Kasane a town or a village?
Kasane is a town in Botswana, close to Africa's 'Four Corners, where four countries almost meet: Botswana, Namibia, Zambia, and Zimbabwe. It is at the far north-eastern corner of Botswana where it serves as the administrative center of the Chobe District.
What is Chobe famous for?
A place for everyone – Chobe National Park

Famed for its massive elephant populations, big herds of buffalo (matched only by some large lion pride), and incredible birdlife, Chobe National Park will leave an everlasting memory.
What is Kasane known for?
Kasane is also popular as a fishing safari destination. A wide variety of fish species can be found in the waterways off Kasane including tigerfish and bream. The Sedudu Island on the Chobe River is also a favorite site for game viewing and bird-watching. See Kasane's accommodation.