Ethiopia National Exam Question and Answer [PDF]: Including Entrance exams and job vacancy exams such as Bank, airline, COC etc. Question Answers for students and job seekers.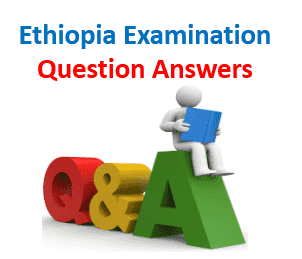 Ethiopia National Exam Question Answer [PDF]
We are trying to design the best sample question papers for all national examinations including grade 8, grade 10, and grade 12 subject-wise and unit-wise question answers.
In addition, technical and vocational education courses such as TEVT centre of competence (COC) exam papers.
Candidates looking for Grade 8, Grade 9, Grade 10 (matric) grade 11, and grade 12 (University Entrance Examination) question papers are available for download. However, many government agencies such as banks, and Airlines conducted a written examination test for the recruitment selection process.
EUEE (Grade 12) University Entrance Question Answers
The Ethiopian university entrance examination is also known as the Grade 12 Exam. Students can check the following subject question answers (Multiple Choice Questions) for better preparation.
Ethiopia Grade 11 Question Answers
Ethiopia Grade 10 Question Answers